Elissa will be seen in five upcoming films: As Jeannie Berlin's daughter in Harry Greenberger's feature, Faraway Eyes; as Lindsay in (writer, director and DP) Niav Conty's upcoming feature Small Time; as Chloe in Virginia Scaro's international, multi-lingual production Better Believe It; in Alex Edep's short film My House (as the lead); and (as the lead as well) in Bingzhang Mao's short, Dolls. Elissa was also in the Venice Film Festival this year as the narrator of Kiira Benzig's Virtual Reality installation, Love Seats. Recently, Elissa executive produced Clark Middleton's short film My Milonga, in which she played opposite Ewen Bremner. A clip from the film can be seen on her reel, here.
In the theater, last year Elissa played Queen Emer in W. B. Yeats' The Only Jealousy of Emer directed by Dublin's Ray Yeates in APT 929's production at Torn Page, NYC. NewYorkArts.net had this to say about Elissa and the piece: In the "convincing (indeed outstanding) production... mounted by Torn Page Apartment 929... Elissa Middleton was nuanced, colored, and eloquent as Emer, bringing off her social persona in the introduction with sophistication floating on a cloud of seasoned spiritual research, evoking thoughts of Georgie or perhaps Lady Gregory as well... This was an unforgettable immersion in Yeats' poetry and Noh-inspired drama."
Last year Elissa played Margo in Laura Shamus' Up to Date. Recent roles also include the Baroness in the US Premiere of Lermontov's Masquerade, directed by Sam Helfrich, performed in concert with the 50-piece String Orchestra of Brooklyn, playing Aram Khachaturian's Masquerade Suite. Elissa directed and starred in the premiere of Meredith Anthony's grim noir, Murder on the Main Line at Manhattan Repertory Theater in the Fall of 2015. She directed the world premiere of Bambi Everson's Neither Here Noir There at Manhattan Rep in early 2017.
Elissa played Helena Marais Rosenthal in James Bosley's play BROAD CHANNEL with UP Theater Company in NYC in 2014. In January of that year she also revived William Leavengood's one-woman play SPECIAL (about autism) at the American Stage in St. Petersburg, which she had premiered at Theatre Row on 42nd Street, NYC. In November 2013, Elissa played Sunny in Sally Nemeth's play MILL FIRE, in an Ivy Theater production that was part of two NYC festivals: EstroGenius and the Harvest Theater Festival. She also played the lead in Craig Lucas' Reckless on East 4th St, directed by her husband Clark Middleton with the wonderful actor Matthew Cowles playing her many shrinks.
Training includes Meisner work with William Esper and Maggie Flanigan; scene study with Austin Pendelton, Laura Esterman, Susan Aston, Jon Shear; voice, speech and Shakespeare with Shane-Ann Younts.
Elissa has published nonfiction about travel, politics, film, and art in the NY Times and elsewhere. She speaks conversational Spanish, Portuguese, French and Czech. She authored Fodor's Guide to Brazil and…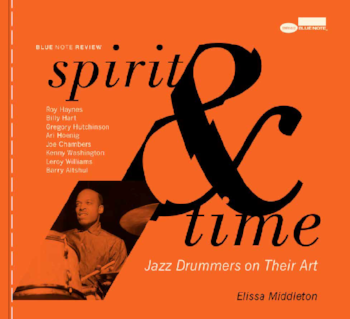 Elissa recently published Spirit & Time: Jazz Drummers on Their Art as a part of the Blue Note Review, Blue Note Records' subscription-only box set. Spirit & Time is an oral history of jazz drums that explores America, race, music and rhythm's evolution. The BNR box set also includes the magazine Out of the Blue, which Elissa edits. Her interview about Miles Davis' drummer Tony Williams appears in the magazine as well.
Exclusively at www.bluenotereview.com